Cruise liners
Castletownbere port is an ideal location for cruise liners to dock. The port is situated on the famous Ring of Beara Peninsula next door to the Ring of Kerry and the world famous town of Killarney. The port can accommodate smaller cruise liners at the deep water berth or anchor in the safest harbour in Europe Berehaven Harbour, 300metres from were the buses can bring you on your journey.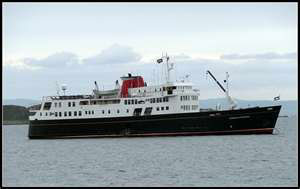 'Hebridean Princess'

Sailing vessels
The south west of Ireland is a great place to sail. The area is dotted with coves, harbours and islands. When a sailing vessel visit Berehaven Harbour they have many locations to anchor, large vessels can berth at the pier in Castletownbere with the permission of the harbour master or anchor by Dunboy Castle or use the marina in Bere Island.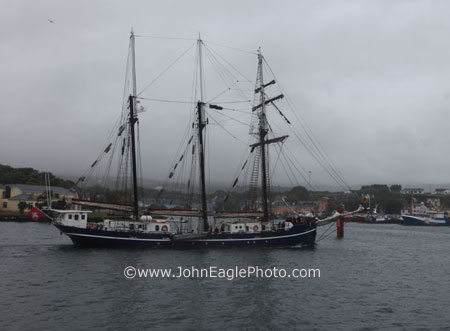 Sea angling
In Castletownbere you can buy fresh fish or hire a charter boat and catch fish for your dinner with in ten minutes of leaving the pier



Whale and Dolphin watching
Off the Beara Coast many whale and dolphins feed on the shoals of fish. Basking sharks are seen along the coast in the summer time, feeding on plankton which is amazing site to watch.



Shore base tours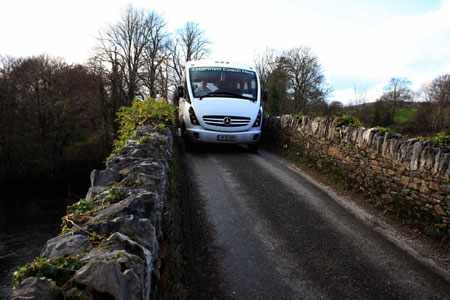 Thomas Hartnett of Ardgroom gives tour of Beara and Irish Lighthouses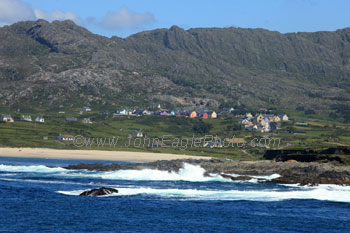 l. Ring of Beara. This is one of the most breathtaking coastal drives around the Beara Peninsula. The route hugs the Bantry Bay coastline from Glengarriff to Dursey. The Gulf Stream climate encourages subtropical trees and shrubs. The lack of intensive farming on the peninsula allows hedgerows, wild flowers and fruits to thrive.
2. The Beara Way Walking Route. One of Ireland's best known walking routes the Beara Way is approximately 220 kilometres in length and completes a circuit of the whole peninsula using tracks, old roads and mountain paths with breathtaking scenery and many fine historical and archaeological sites along the route.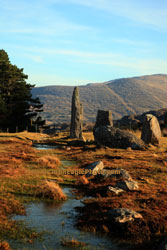 Cashakeelty Stones, the Beara Way passes right besides the stones

3. Kenmare Town. The picturesque town of Kenmare is a fine example of one of Ireland's few planned towns with some fine buildings which pay tribute to the craftsmen of a bygone age. The town is set amount the Cork and Kerry Mountains.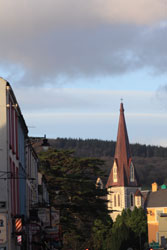 Kenmare Church

4. Bantry House and Bantry Town. Bantry house is one of the finest historic houses in Ireland open to the public and is surrounded by wonderful gardens with some spectacular views across Bantry Bay. Bantry town has some great shops and has a very popular open air market each Friday.

5. Italian Gardens Glengarriff. These gardens are situated on Garnish Island which is located in the sheltered harbour of Glengarriff. A short boat trip across the bay is home to delightful grounds, a charming Italian garden and pool a miniature temple and a Martello Tower. These gardens are over 100 years old.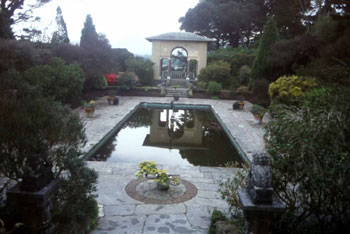 6. Killarney Town and National Park. Killarney is famous world wide for its lakes and wonderful scenery. Killarney is home to Ireland's first National Park. The park is 25,000 acres of lakes, forest, woodland, flowers and fauna. It also has Ireland's largest herd of native red deer.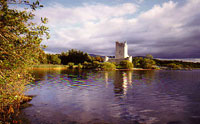 Ross Castle in Killarney

7. Trip to Bere Island Heritage Centre. This newly renovated Old School Building plays host to a wealth of information on the story and history of Bere Island. The island is home to Martello towers, standing stones, a lighthouse and military heritage sites.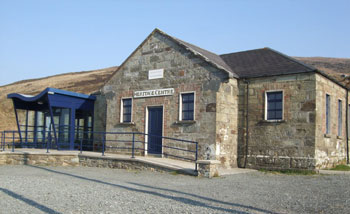 Bere Island Heritage Centre

8. Golfing in Berehaven, Glengarriff, Bantry and Kenmare. Berehaven and Glengarriff are both 9 hole courses while Bantry and Kenmare are both 18 hole courses. All courses have some magnificent views to enjoy.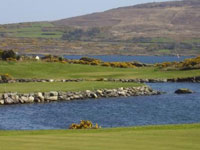 Castletownbere Golf Club

9. Beara Artists. The untouched beauty and wildness of the landscape is a source of inspiration to numerous well-known artists who live on the peninsula. Their work can be seen and purchased from many galleries in the area.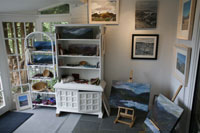 The Beara Gallery, near Ardgroom

10. Water sports. The peninsula is the perfect place for all kinds of water sports. . A sailing centre in Adrigole offers sailing, windsurfing and kayaking. While a diving centre in Allihies offer courses from the beginner to the more experienced diver. Sea Safari based on Bere Island is the perfect way to enjoy a unique and exciting costal tour of Bantry Bay while enjoying the wonderful array of sea animals and birds.

11. Visiting Milleens Cheese. This complex and delicate cheese is made from the milk of Friesian cows grazing the mountains and pastures of the Beara Peninsula. Milleens is the longest established Irish farmhouse cheese and was a personal favourite of Queen Elizabeth of England on her visit to Ireland in 2011.


12. Horse riding in Castletownbere and Eyeries. Scenic trekking is a very popular way to take in the beauty of the area.
13. Visiting Derreen Gardens. These subtropical gardens occupy the whole of a ninety-acre peninsula in a sheltered inlet amidst the splendid setting of the wild and majestic Caha Mountains.

14. Visiting Gougane Barra. On this uniquely magical unspoilt lakeside location you will find St. Finbarr's Oratory.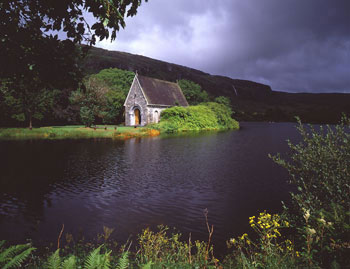 Gougane Barra

15. Historical and archaeological sites. The Beara Peninsula has numerous sites of archaeological interest these include single standing stones, stone circles, megalithic tombs, burial grounds, forts, castles signal towers etc.

16. Mine Museum in Allihies. The Museum is housed in the renovated Methodist church built in 1845. The Museum tells the story of copper mining at Allihies. It also has an Art Gallery and Café.

17. Visit to Cable Car. Ireland's only cable car operates between the main land and Dursey Island. The trip takes ten minutes. The island is a walker's delight and also renowned for its flora and fauna. The island is also favoured by birdwatchers because of the numerous rare bird species.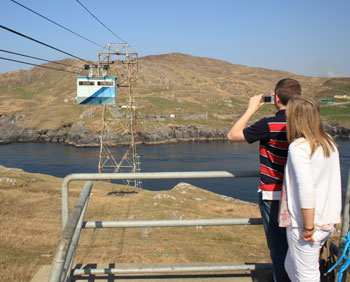 18. Dzogchen Beara is a Tibetan Buddhist Retreat centre under the spiritual direction of Sogyal Rinpoche, author of The Tibetan Book of Living and Dying. Registered as a Charitable Trust in Ireland, it is the long-term retreat centre for Rigpa - an international network of Buddhist Centres.


The Centre is situated on the wild and beautiful Beara Peninsula in south-west Ireland, and sits high on cliffs overlooking the Atlantic Ocean with breathtaking views of sea and sky. Many Tibetan masters, and almost everyone who visits, comment on the extraordinary qualities of Dzogchen Beara - its beautiful natural environment and atmosphere of profound peace which comes from deep spiritual practice. We welcome everyone, from all walks of life and of any faith or none, and offer many different ways to visit Dzogchen Beara.


19 Visit to Molly Gallivan's Cottage. At Molly Galllivan's you will experience the simple country lifestyle in rural Ireland before the days of electricity and modern conveniences. The visit includes a walk through a traditional farm complete with animals fowl and traditional machinery.

20 The Mizen Vision Centre. An award winning Maritime Museum and Heritage Attraction, this authentic all-weather experience is a must-see with its spectacular location on high cliffs with swirling Atlantic Ocean tides